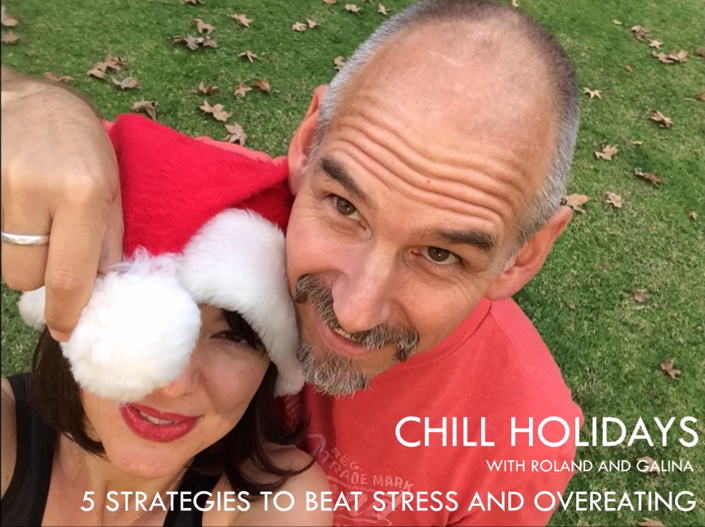 Did you know Chill Holidays is included as part of your Eat Move Live 365 Community Membership?

If you're already a member of Eat Move Live 365, you'll find it there already. If you're not, but want Chill Holidays free you can become a member using the big blue button, below!
Scroll down to Class Curriculum
and click "Preview" to watch your free talk!
Do you dread the holidays?
"I love the holidays, but whenever someone asks me about my plans, I just want to run and hide." - Chris
The holiday season is meant to be a time of family, fun, joy, and celebration, but for many of us it has become the most stressful time of the year.
Imagine all the family obligations, the gift shopping, cooking, cleaning, not to mention parties, alcohol, tempting holiday treats... when it's all over you are often carrying a few extra pounds, you feel out of shape and you need a vacation.
Holiday stress seems endless, so it's no wonder so many of us have come to dread the holiday season instead of celebrating it.
It doesn't have to be this way!
Chill Holidays takes you from overwhelmed and powerless to balanced and in control
The holidays have a way of challenging even the best of plans to stay healthy, fit, happy with daily life, and stress free. Endless holiday parties, buffets, family gatherings, and heaps of leftovers in the fridge challenge your waistline, and your movement practice or workouts always seem to take a back seat because there's just no time.
Do something different this year. Join us for Chill Holidays, and not only survive the holidays, but thrive!
Your Chill Holidays program includes:
Powerful video lessons
Exercise videos to support daily movement
Bite sized videos, audio recordings, or downloads delivered daily
Healthy and delicious holiday recipes
Stress busting guided meditation exercises
Effective, easy to implement strategies
Private Facebook discussion group
Exclusive Live Weekly Q&As
Chill Holidays!
Smart food choices, mini movement sessions, stress busting practices, all with a simple and easy week-to-week progression aimed at your specific holiday challenges. Effective, easy to implement strategies to feel great in your body without feeling deprived or isolated.
Have more energy, feel great in your body, and enjoy the wonderful memories of this holiday season.
Enroll now, enjoy the holidays, and celebrate the healthiest and happiest New Year ever!

This holiday season, pie and gift wrap aren't boss. You are.
Click the green "Preview" button below to watch your free lesson!
Program & Curriculum
WATCH THE FREE TALK HERE - 5 Strategies to Survive & Thrive
Available in days
days after you enroll
Get Started TODAY with your Fall Mini-Reset!
Available in days
days after you enroll
Over six weeks of seasonal curriculum to help you master every freakin' holiday stress there is.
Course led by
Roland Denzel is a weight loss coach whose first client was himself!
Overweight his first 35 years, he lost over one hundred pounds in 2003, and has kept if off since. Along the way, Roland developed a passion for health, fitness, and nutrition that's not only kept him slim and healthy, but allowed him to help others just like himself through his writing and coaching.
Roland is an IKFF trained kettlebell coach, a certified personal trainer, and is a sports nutrition and weight loss coach through Precision Nutrition. He has co-authored five books, including The Real Food Reset, and Man on Top, which was inspired by his own journey to becoming healthy, slim, and fit. Roland's latest book Eat Well Move Well Live Well, coauthored with Galina, won the 2017 Foreword Indie Gold!
Galina Denzel is a movement teacher and Somatic Experiencing Practitioner. She helps her clients return to a life of functional movement after an injury, accident, or trauma through a variety of corrective exercise methods and healing modalities.
Galina is a Nutritious Movement™ certified Restorative Exercise Specialist and certified personal trainer, nutrition coach, author and educator. She is the co-author Eat Well Move Well Live Well, The Real Food Reset and Man on Top, plus The Art of Real Food in Bulgaria.
Together, Galina and Roland have a thriving health coaching practice, serving clients worldwide, and locally in Orange County, California. Galina and Roland write and podcast regularly at EatMoveLive52.com, and their latest award-winning book Eat Well, Move Well, Live Well - 52 Ways to Feel Better in a Week, is available where all fine books are sold.

Chill Holidays
is BACK!
Join us for our 7th annual Chill Holidays!
Frequently Asked Questions
When does the course start and finish?
The course officially starts in October and runs through January, but you've got access all the time. We usually kick things off early to give you plenty of time to prepare for the holidays! In addition, you get the Fall Mini-Reset eBook as soon as you enroll, so you can start feeling better about the holidays immediately! Once we start, every day is a new lesson, but you can always go back and revisit your favorite parts at your own pace. A lot of what you learn in the course applies well beyond the holidays, though, so in a way, you get to feel better all year long.
How long do I have access to the course?
The course is yours to keep! After enrolling, you have unlimited access to this course, across any and all devices you own. In addition, every year that we open up the Chill Holidays program for new students, you're invited to join us again, live at no additional cost. This year, we already have lots of returning 2016 students!
What if I am unhappy with the course?
We would never want you to be unhappy! If you are unsatisfied with your purchase, contact us in the first 30 days and we will give you a full refund.