Update - Our Great January Reset was a huge success. Stay tuned for the NEXT Reset, coming soon!
---
January has been amazing, with over 300 people joining us for their own Real Food Reset, 5 Minute Movement Breaks, daily inspiration, recipes, and support!
The 30 days are not even over yet, and people are already reporting…
Pounds and kilos lost
Lower blood sugar
Less hunger
Fewer cravings
Reduced allergies
Less bloating
No heartburn
It's simply amazing what a focus on Real Food can do, and we're not even 30 days in yet!
I'm not a hard sell person, so if you want to make a change, hurry up and join us while the program is free! Join now, and you'll have total access to the program for your own 30 Days of Real Food, plus daily 5 Minute Movement Breaks, and our support, plus our awesome network of amazing people!
We hope you'll join us!
Roland & Galina Denzel


---
Our Great January Reset is LIVE!
The beginning of the New Year is a perfect time to take steady and confident steps to improve your diet, create lasting change and learn which are the best foods to help you thrive in 2017!
Have you ever tried a diet only to go off in a few weeks?
Have you spent hundreds on supplements only to wonder if they really worked?
Do you still wonder whether a food is good for you? How much to eat?
Are you ready for a healthy, true, and empowering transformation?
Studies show that when we start a new plan at the beginning of a new year, month or after significant milestones, like a birthday, we are more likely to create lasting change. Researchers also point out that having support, and feeling the shared joy of being a part of something greater than you helps you maintain results! To top it off - not only are we starting a new year with an incredible community of likeminded awesome people, we also have a tried, tested and delicious approach to nourishing real food to fuel it all!
Are you ready to enjoy real food, take it at your own pace and get to know what your body really needs to lose weight, feel light and energized and stay that way long-term?
Our Free Program Starts January 1st
Why free? When we wrote "The Real Food Reset", we did it after leading several live groups in our community in Orange County, California. Our book was a way to reach thousands of readers, who found us on Amazon, or browsing our website. But then they wanted recipes, meal plans, real-time support, they were eager to discuss symptoms and results. Our emails got overwhelmed and as both of us have full time jobs, we needed a solution. It was clear that the time had come to create an online community to reach every corner of the world. When we started brainstorming the format, we felt a longing to reach everyone who needs us.
We wanted to give as many people as possible the chance to experience the gift of real food, and with that, we wanted you to have as few things standing in the way as possible, including money.
But here is the catch - even though the program is free, it comes with an investment. This is where you come in.
What we want is the investment of your willingness, commitment and open curiosity! We want you to do your best, come out feeling incredible at the end and continue on this path for years to come.
You can pay it forward later. If you love the program, it will be paid after this January run, and you can thank us by sharing it with your friends and community.
Until then, enjoy it for free and feel your absolute best!
What are these books you mention?
The 30 days of real food is based on our bestselling books The Real Food Reset and Eat Well, Move Well, Live Well - 52 Ways to Feel Better in a Week. The guided coaching program is one of several online tools we have created to support real life transformation available to anyone from the comfort of their phone, tablet or PC!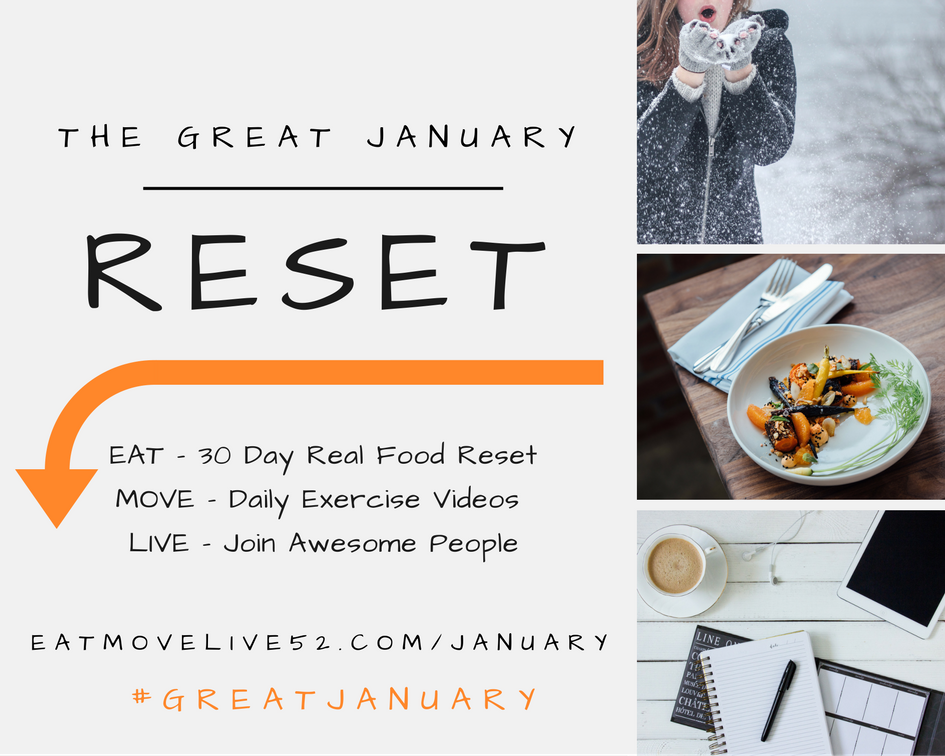 Tired of being overweight despite watching what you eat?
Fed up with cravings?
Feeling tired in the afternoon?
Have you lost your drive to move and exercise?
Are you riddled by chronic aches and pains?
1 month can make a tremendous difference!
Unlike a diet, detox, or fast, The Real Food Reset develops healthy eating habits that become the basis for perfect health for the rest of your life.

The REAL FOOD Reset

is easy, based on real food, and no gimmicks program
frees you from food cravings
feeds your body the food it really needs
reawakens your lost instincts and helps eat intuitively
naturally controls your appetite
reduces thinking about food
helps with conditions related to inflammation
It's not about dieting, it's about Real Food!

Join The Great January Reset now!

But wait, there is more!
If you want the whole package this January - join us for two more components of a well-rounded healthy lifestyle: move with the videos we post on Facebook and Instagram and join our community of awesome people going through the program, just like you!
Instagram @galinadenzel @rolanddenzel
Are you in yet? ENROLL HERE!