---
We created this course for you.
What landed you here?
Perhaps a dedication to your body, a feeling that movement can feel great again. A sense that there is more to movement as a birthright than just checking a box a few times a week. A deep knowing that your well-being and your future depend on staying active and choosing a caring way to do so.
We all want to get fit and healthy, but how? In today's sedentary and busy world there are as many different exercise programs as there are chairs.
Some people swear by running, taking up a couch to 5k program. Others hit the gym a few times per week. Maybe you love skiing, swimming, yoga, dancing.
Maybe, just maybe, like many of our students, you have recently felt the nagging aches and pains or lack of energy and focus that keep you from the very activities you love.
What happened? Is your body is just aging?
You want to get back into an active lifestyle, but it always feels like something's wrong, like it shouldn't have to be such a struggle.
It's not you, it's your exercise
The truth is that there is nothing fundamentally wrong with you.
Your body is amazing at responding to stimulus. It is an expert at adapting to input. It has been adapting, sometimes for a very long time, to sitting, driving, stress, posture, the demands of exercise, and insufficient rest.
And now, that feeling that something is wrong is your body asking for change.
Those aches and pains, the tiredness and lack of motivation? Those are your body's way to get attention.
Instinctively, your body knows it needs change. Thirst and hunger are its ways of asking for nutrition and hydration, but it finds a way to ask for movements that nourish, as well. You just have to listen.
Shaping the clay
Think of your body as a piece of clay on a potter's wheel.
The wheel is life itself, with time moving forward. The hands are the applied forces holding the clay during every movement you do (or don't do) throughout the day. When you look at the result at the end, you are looking at a shape that is the sum of your total movements.
Your shape may have shoulders that round forward, or hips that don't bend into an effortless squat, a tight achy back, or arms that don't feel as toned as they used to.
But I have great new for you. The hands holding the clay can easily change positions. With even a small movement, the clay begins to change shape. With guidance, each little change creates a powerful effect, not only changing that spot, but influencing the body as a whole.
Soon, with nothing but small changes, new habits, and different movements, you've changed your posture, improved your shape, reduced your aches and pains, and restored the energy you haven't felt in years!
I am inviting you to consider how it would feel to have:

Improved posture
Fewer aches and pains
More energy
Better mood and focus
More freedom to do outdoor activities and exercise
Every BODY Moves is a complete course that offers

A step by step flexible plan to get you on track and keep you there
Amazing support in a community of like-minded people
Expert help for a fraction of the cost of working with a trainer
How to move
We created this course to teach you what exercise programs don't: HOW to move.
In today's sedentary world there is a gaping hole in movement quality - we want to do more without understanding HOW to do more.
It can feel great to move again, and move better, and that feeling isn't far away in the distant future, it's a matter of daily gentle practice and movement awareness - skills that we can teach you and skills that you can learn.
Every BODY Moves will:
improve your awareness of your body
increase your ability to maintain good posture
support vital functions: breathing, digestion, metabolism
introduce fundamental human movements for health
resolve nagging aches and pains
empower you to create a personal movement practice
motivate you and keep you accountable to move with mindfulness and care
Are you ready to?
change your movement mindset
practice the power of all day movement
learn a smart way to fight sedentary behavior
restore faith your body's ability to self-heal through movement
enjoy being active
remember how good it feels to be in your body
Program & Curriculum
Welcome to Every BODY Moves
Available in days
days after you enroll
Moving in the morning - 10 minute movement flows
Available in days
days after you enroll
Deepening presence in your body
Available in days
days after you enroll
Course led by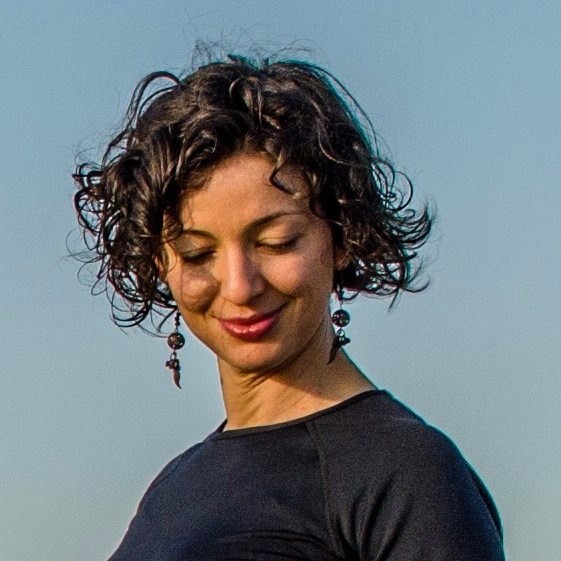 Galina Denzel is a movement specialist who has dedicated her life's work to helping people become free to move and enjoy life to its fullest. Her practice is focused on guiding people in acute and chronic pain to return to a life of functional movement after an injury, accident, or trauma. Galina is a Nutritious Movement™ certified Restorative Exercise Specialist, a Somatic Experiencing Practitioner, nutrition coach, author and educator.
She is the co-author of Eat Well Move Well Live Well, The Art of Real Food in Bulgarian, plus The Real Food Reset and Man on Top in English.

Galina and her husband Roland have a health coaching practice, serving online clients worldwide, and locally in Orange County, California. Galina and Roland write and podcast regularly at EatMoveLive52.com, and their latest book Eat Well, Move Well, Live Well - 52 Ways to Feel Better in a Week, is available where all fine books are sold.
Frequently Asked Questions
When does the course start and finish?
The course starts immediately after you enroll. While you do get a new 5 Minute Movement Break every day for the first month and more, the program itself doesn't have to end. The program, exercises, and movements are designed to be timeless. Every BODY Moves teaches you how to move for life. It is designed so that you can workout, learn, and play at your own pace.
How long do I have access to the course?
Every BODY Moves is yours to keep, and is available to you indefinitely! Use it once, twice, or every day going forward!
What if I am unhappy with the course?
We have a 30 day money back guarantee! We would never want you to be unhappy. If you are unsatisfied with the program, we want to know so we can make our programs better. Please contact us and let us know and we'll refund the price of your course.