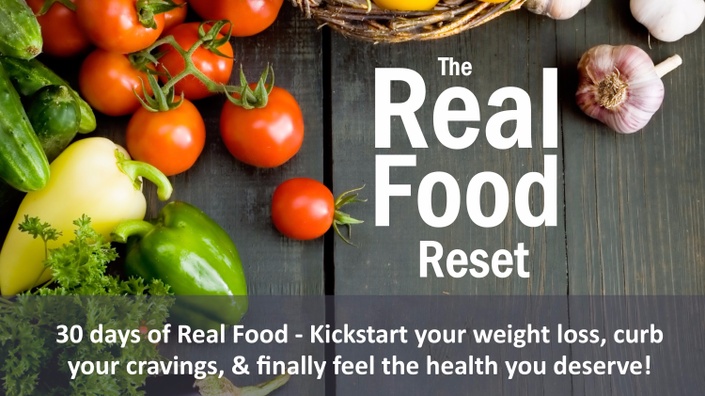 The Real Food Reset
30 days of Real Food - Kickstart your weight loss, curb your cravings, & feel the health you deserve!
Start Your Reset Today!
The Real Food Reset
30 days can change your life
Tired of being overweight despite watching what you eat?
Fed up with cravings for sugar or salty snacks?
Low energy? Tired in the afternoon?
Have you lost your drive to move and exercise?
Are you riddled by chronic aches and pains?
It doesn't have to be that way.
30 Days makes all the difference!
The Real Food Reset is a complete diet and eating-style based on our popular program, The 30 Days of Real Food.
This natural, Real Food based eating style is the same program that we've used with clients and readers for over a decade. It was so successful and popular that clients, family, and friends encouraged us to put it all down on paper, and it soon became our best selling book, "The Real Food Reset."
Since 2010 our Real Food program has been helping people lose weight, take control of their cravings, reconnected with the true signals of hunger, and develop new healthy habits designed to last a lifetime.
In just 30 days The Real Food Reset teaches you to love naturally satisfying, 'real foods,' reduces cravings for junk foods and sweets, restores lost energy, and helps you lose weight like never before.
---
"Are you ready to jumpstart your way to vibrant energy and better health? A concise but powerful guide to improving your life with nature's most powerful medicine - Real Food!"
- Dr. Wendy Welch
---
The Real Food Reset...
is simple, and based on Real Foods like fruit, vegetables, fish, meat, poultry, eggs
focuses on healthy fats, lean protein, and naturally occuring carbs
frees you from food cravings, reawakens lost instincts, teaches you to eat intuitively again
helps you lose weight without counting, weighing, and measuring
reduces cravings and obsessions with food
is a no gimmicks, no supplements required program
feeds your body the food it was designed for
naturally controls your appetite
helps inflammation, increases energy, and improves mood
30 Days..
Real Food
Meal planning
Shopping tips and tricks
Learning how to stock your kitchen, pantry, and fridge
Work and life balance
Sample meal plans and recipes
Restaurant and fast food strategies
Unlike a diet, detox, or fast, The Real Food Reset develops healthy eating habits that become the basis for great health for the rest of your life.
"It's not about dieting, it's about Real Food"
- Roland Denzel


What about Day 31?
Anyone can lose weight and get active for a month, but what happens after that?
Along the way you will learn the vital and life changing tools, techniques, and habits that will keep you on a slim, fit, and healthy track for life, all without putting your favorites on the forbidden list forever!

Sure, there's value in being strict with yourself, at least for the first 30 days, but that can't (and shouldn't) last forever!
You've heard of the 80/20 rule?
We're firm believers in the 80/20 principal when it comes to your diet and lifestyle. Focus on doing great for 80% of the time and giving yourself some freedom for the other 20%. If 80% of your meals and snacks are focused on our Real Food principals, then the other 20% can be more relaxed.
You don't have to go without forever!
The Real Food Reset is a new beginning. It's a long term lifestyle of eating and living for optimal weight, health, energy, mood, and performance.
Lose the cravings, regain lost energy, feel great, lose weight, and keep it off ... forever.
---
Join The Real Food Reset and start your 30 Days of Real Food now!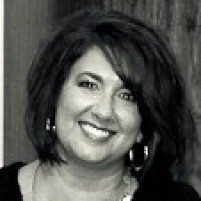 "The Real Food Reset exceeded my expectations! I knew if I was going to make progress, real food was the answer. I was pleasantly surprised when my sugar cravings were replaced with real food cravings. I was inspired to get in the kitchen and experiment. The Real Food Reset did more than reset my diet. With the encouraging guidance of Roland and Galina, it changed me from the inside out."
-
Sharron Hines
, Mrs Hines Class
Program & Curriculum
Introduction
Available in days
days after you enroll
Preparing for your Real Food Reset
Available in days
days after you enroll
Start the Real Food Reset - Days 1 to 30
Available in days
days after you enroll
Course led by
Roland Denzel is a weight loss coach whose first client was himself!
Overweight his first 35 years, he lost over one hundred pounds in 2003, and has kept if off since. Along the way, Roland developed a passion for health, fitness, and nutrition that's not only kept him slim and healthy, but allowed him to help others just like himself through his writing and coaching.
Roland is an IKFF trained kettlebell coach, a certified personal trainer, and is a sports nutrition and weight loss coach through Precision Nutrition. He has co-authored five books, including The Real Food Reset, and Man on Top, which was inspired by his own journey to becoming healthy, slim, and fit. Roland's latest book Eat Well Move Well Live Well, coauthored with Galina, won the 2017 Foreword Indie Gold!
Galina Denzel is a movement teacher and Somatic Experiencing Practitioner. She helps her clients return to a life of functional movement after an injury, accident, or trauma through a variety of corrective exercise methods and healing modalities.
Galina is a Nutritious Movement™ certified Restorative Exercise Specialist and certified personal trainer, nutrition coach, author and educator. She is the co-author Eat Well Move Well Live Well, The Real Food Reset and Man on Top, plus The Art of Real Food in Bulgaria.
Together, Galina and Roland have a thriving health coaching practice, serving clients worldwide, and locally in Orange County, California. Galina and Roland write and podcast regularly at EatMoveLive52.com, and their latest award-winning book Eat Well, Move Well, Live Well - 52 Ways to Feel Better in a Week, is available where all fine books are sold.

Frequently Asked Questions
When does the course start and finish?
The course starts immediately after you enroll. Even though we focus a lot on the first 30 days, the program itself doesn't ever have to end. The program, recipes, and concepts are designed to be timeless. The Real Food Reset teaches you how to eat for life. It is designed so that you can learn at your own pace.
How long do I have access to the course?
The course is yours to keep, and is available to you indefinitely! Use it once, twice, or every day going forward!
What if I am unhappy with the course?
We have a 30 day money back guarantee! We would never want you to be unhappy. If you are unsatisfied with the program, we want to know so we can make our programs better. Please contact us and let us know and we'll refund the price of your course.