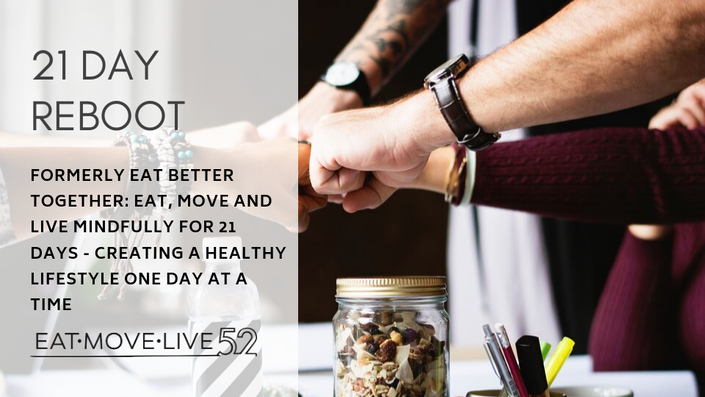 21 DAY REBOOT
Formerly Eat Better Together: 21 Days of Nourishing Meals, Movement, and Mindfulness to Lose Weight and Feel Great!
Join us!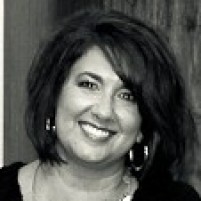 "With the encouraging guidance of Roland and Galina, I changed from the inside out."
- Sharon
Remember that feeling?
Remember the last time you went on a diet, started a new movement program, or a self-care practice?
You just can't beat the feeling of starting something new, gaining momentum and then enjoying the benefits!!!
It just feels good to make great decisions in the interest of your health and well-being! Life, with all of its challenges, suddenly becomes easier.
But it also happens that most of us fall off the wagon...and sometimes it can be weeks, months and even years before we feel ready to hop back on.
This hopping on and off can be truly hard on you, especially when you remember that the good feeling only lasts as long as you stay on.
Get on track, stay on track
Our programs are based on the modern science of change psychology, designed to be fun, and done in small groups for the best support.
Our lessons are at your fingertips, on your phone, tablet or computer, and just take a few minutes each day.
If you want to reconnect to that feeling of doing something great for yourself every day, if you want to never lose it again - this program is perfect for you!!!
You're invited!
We invite you on a three week experience that will help you truly enjoy real food, feel confident to move in new ways, and gain fresh insight into the ways your mind and body work together!
We hear about the challenges most of our students and readers have - lack of time, feeling overwhelmed by choices, not knowing what exactly to eat, and what the best kinds of movement are!
And just when do you find the time to relax and de-stress and actually enjoy the fruits of your work?
Many feel like food and exercise controls the pace of their lives...
We talked to hundreds of you and designed our program with these challenges in mind, so you don't have to do the hard work.
All you have to do is open yourself up, and allow for a daily, short lesson, apply the simple principles we'll introduce you to, and enjoy your results!
It doesn't have to be so hard!
It doesn't have to be a constant struggle to keep yourself well
Our bodies want to be well - and when you focus on the actions and behaviors that are critical to a healing lifestyle - your body responds by feeling good, and your self care soon feels light and pleasurable. Before long, it just comes naturally!
For those of you who can sense how possible it is to create the change you desire, we're there for you.
Those of you who are ready - we want to go there with you!
That desire you feel in your heart, and the deep knowing that health shouldn't be this hard to attain will be the fuel for your change!
You met us somewhere - in a book, online program, on Facebook, in real life as our students. If you've felt a shift with us and feel like we are your people, we want to support you. We want to be the team that takes you to a place where you feel better about food, movement, managing stress and living life in a body that is healthy, well, and feels amazing!
Let's Eat Better Together
In Eat Better Together we'll learn, practice, cook, share, create, discuss, and meet obstacles together.
Together we will eat better, create new movement habits and weave stress reducing practices into the fabric of each day.
Together we will remember, hold on to, and solidify that feeling of joy and excitement that you once only felt for a day or two of a new diet or workout plan!
For those of you who want to lose weight, this is a program that is kind and compassionate, nurturing and brings results you can keep. There is nothing more devastating than getting results and then not being able to keep them.
In just 21 days, you'll gain the skills you need to improve your health and stay at a healthy weight for the rest of your life.
For those of you facing the challenges of aches and pains and the limitations of illness, this program will give you bite sized lessons you can handle, so you can support yourself from the inside out, and have control over key and important aspects of your health.
You will put control and power back where they belong - in your own hands!
Inside Eat Better Together you'll discover:
three weeks of daily lessons, in video, PDF and Presentation format

short, applicable lessons you can practice that day - eating, moving and practicing mindfulness together

interactive cooking practices

daily menu suggestions and learning how to create your own satisfying meal plan

no more eating what others tell you, we will teach you how to listen to your own intuitive creative voice

movement practices for a busy life

effective ways to increase metabolism and improve digestion through movement

mindfulness practices to help you live by your body's own rhythm of needing nourishment and movement, rest and integration
Eat Better Together is your guide to reclaiming your life and your love of self care.
We understand that time is a valuable resource and we have done all the work, so in less than 10 minutes a day you can learn and practice something new that will build the life of health you desire.
Give us a chance to be your team, risk free!
All of our programs come with a 30 day money back guarantee, so if you are not completely satisfied, you can always have your investment back, no hard feelings!!!
Register for Eat Better Together, and take the first step to a healthier, fitter, and stress-free body today!
"I've worked with Roland and Galina for many years, and whether you want to make a complete lifestyle change or make small adjustments to your habits, they'll work with you in an encouraging and non-judgmental way.
Their enthusiasm is contagious, and I can guarantee you will learn something new!"
- Carolyne
Eat Better Together is right for you if...

You're tired of starting and stopping your self-care
You want to learn to work with your body, not against it
You don't have the time or energy for diets and exercise
You want the support of experienced and compassionate coaches
You would like to meet others moving in the same direction and enjoy the support of a group
You have very little time and feel that starting something new may be too much
Eat Better Together includes...
Daily emails, bite sized, powerful video lessons, PDFs and slides, and gentle coaching and encouragement
Printable PDFs and downloadable presentations, recipes and menus
A closed Facebook group for the school, and access to Roland and Galina for the duration of the course
Weekly, live Q&As
And it's all yours to keep!
Once you're part of Eat Better Together, you'll always be welcome to join us for future sessions, at no extra charge. We want you to succeed, so that what you've learned can become a part of your daily life!

Join us in Eat Better Together, and take your first step to a healthier, fitter, and stress-free you!
Program & Curriculum
Welcome to Eat Better Together
Available in days
days after you enroll
Get Ready to Start!
Available in days
days after you enroll
Course led by
Roland Denzel is a weight loss coach whose first client was himself!
Overweight his first 35 years, he lost over one hundred pounds in 2003, and has kept if off since. Along the way, Roland developed a passion for health, fitness, and nutrition that's not only kept him slim and healthy, but allowed him to help others just like himself through his writing and coaching.
Roland is an IKFF trained kettlebell coach, a certified personal trainer, and is a sports nutrition and weight loss coach through Precision Nutrition. He has co-authored five books, including The Real Food Reset, and Man on Top, which was inspired by his own journey to becoming healthy, slim, and fit. Roland's latest book Eat Well Move Well Live Well, coauthored with Galina, won the 2017 Foreword Indie Gold!
Galina Denzel is a movement teacher and Somatic Experiencing Practitioner. She helps her clients return to a life of functional movement after an injury, accident, or trauma through a variety of corrective exercise methods and healing modalities.
Galina is a Nutritious Movement™ certified Restorative Exercise Specialist and certified personal trainer, nutrition coach, author and educator. She is the co-author Eat Well Move Well Live Well, The Real Food Reset and Man on Top, plus The Art of Real Food in Bulgaria.
Together, Galina and Roland have a thriving health coaching practice, serving clients worldwide, and locally in Orange County, California. Galina and Roland write and podcast regularly at EatMoveLive52.com, and their latest award-winning book Eat Well, Move Well, Live Well - 52 Ways to Feel Better in a Week, is available where all fine books are sold.

Frequently Asked Questions
When does the course start and finish?
Live coaching in the program starts on February 11th, and goes for 21 days. On day 22 and beyond, we'll help you continue to practice the skills you've learned in Eat Better Together. It takes 21 days to get comfortable with a new habit, but we're here to help you develop habits that last a lifetime. The program is yours to keep, and you're invited to return and join us again with future groups of students. never ends! It is a completely self-paced online course - you decide when you start and when you finish.
How long do I have access to the course?
It's yours to keep! After enrolling, you have unlimited access to the course for as long as it's available. You'll have access across any and all devices you own.
What if I am unhappy with the course?
We would never want you to be unhappy! If you are unsatisfied with your purchase, contact within 30 days of purchase and we will give you a full refund.